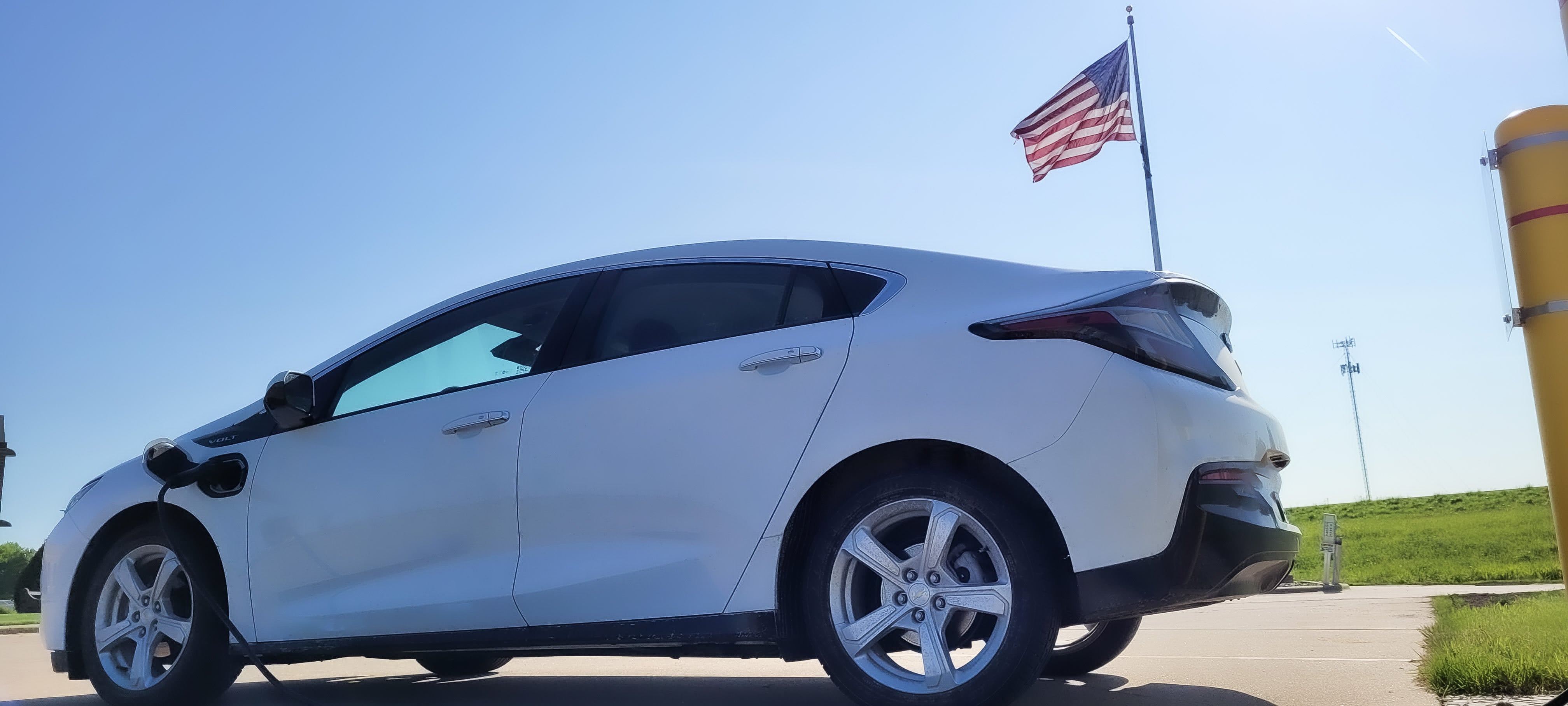 We have had numerous discussions among ourselves and with other electric cooperatives studying the trends of the EV market and the impact on our electric distribution grid. Currently, the demand for electricity during the late-night and early morning hours is minimal, and the cost of energy is at its lowest. We want to encourage EV owners to take advantage of low-cost energy during times that have the least impact on the electric grid. This has led us to develop an EV charging pilot program that not only suits our members but aligns with the needs of the electric industry. If you have or are considering an EV, I encourage you to take advantage of this new EV charging opportunity. 
Most manufacturers will have some sort of electric vehicle option by 2023.
Some manufacturers include: Ford, Tesla, General Motors, Rivian, Nissan, Audi, BMW, Kia, Volkswagen, Volvo and many more. 
An estimate of 20 million electric vehicles (EV) will be on the road in the US by 2030
Average driving distance per day in the US is 37 miles
Battery warranty is 8 years or 100,000 miles from all manufacturers.  Some Tesla drivers have driven over 300,000 miles and still have 80 to 90 percent battery capacity.
In May of 2023 we developed a pilot program for electric vehicles as a way for our members and the cooperative to learn more about electric vehicles. 
If you would like to participate in the program here is what we offer.
7.7 kW Clipper Creek Charger 
$5.00 per month facility charge
Time-of-use rates listed below
| | | |
| --- | --- | --- |
| NAME | COST / kWh | TIME |
| ON PEAK CHARGING | 25¢ PER kWh | 1:30 p.m. - 9:30 p.m. |
| OFF- PEAK CHARGING | 8¢ PER kWh | 6:30 a.m. - 1:30 p.m. |
| SUPER OFF-PEAK CHARGING | 5.7¢ PER kWh | 9:30 p.m. - 6:30 a.m.  |
*Member is responsible for the installation of the charger.
LEVEL 1: Automakers often include Level 1 charging equipment with new electric cars. This device plugs into a typical household 120V outlet. The ubiquity of these ordinary household outlets makes Level 1 charging incredibly convenient, even if this type of charging replenishes your car's battery pack at a very slow rate. Plan on seeing your EV add around two to four miles of range per hour, depending on the efficiency of your specific battery-powered car, truck, or SUV. This type of charging is much slower, far less efficient, and will cost you more than Level 2.
LEVEL 2: Level 2 charging operates at 240 volts and typically at three to four times the amperage of a lesser Level 1 unit. As such, the majority of Level 2 units add electricity to your EV's battery pack at a rate that's roughly six to eight times faster than Level 1 setups, equating to 12–32 miles of driving range for each hour of charging.
We recommend that any EV owner install Level 2 charging at home.
LEVEL 3: Level 3 chargers are the Speedy Gonzales of the bunch. Alternatively known as DC fast-chargers, Level 3 chargers are especially useful during long trips that necessitate charges between destinations, as this sort of charging can add around 100–250 miles of range in 30–45 minutes. Unlike Level 1 and Level 2 charging, Level 3 setups connect to the vehicle by way of a socket with additional pins for handling the higher voltage (typically 400 or 800 volts).
LEVEL 2 Chargers: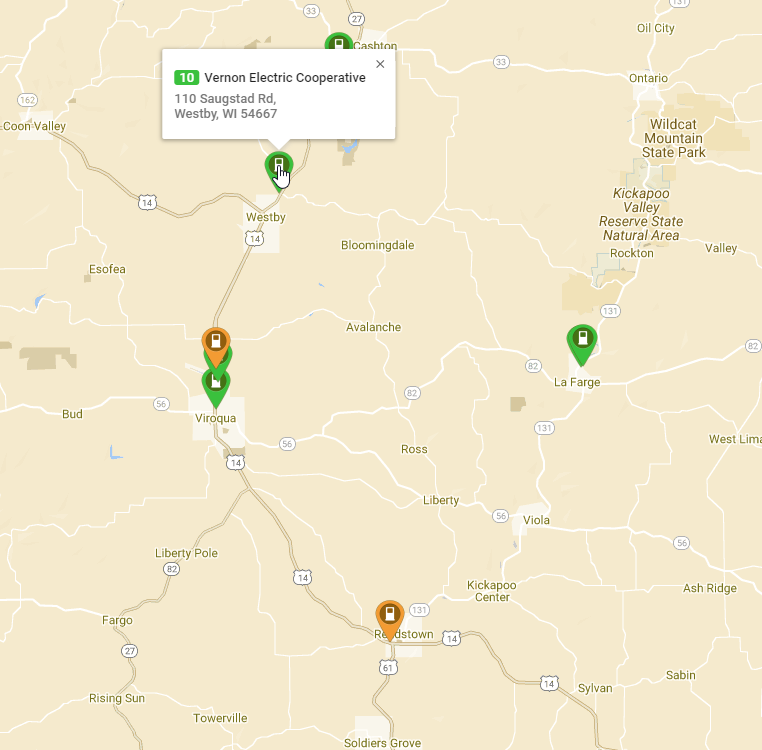 Vernon Electric Cooperative 
110 Saugstad Road, Westby, Wi 54667                                                              
Kickapoo Creekside
827 W Kickapoo St
Readstown, Wi 54652
LEVEL 3 - FAST CHARGERS
Kickapoo Creekside
827 W Kickapoo St. 
Readstown, Wi 54665
Sleepy Hollow Ford x 2          
150 Vernon Pkwy
Viroqua, Wi 54665
We recommend https://www.plugshare.com/ to search for chargers near you! 
The standards for EV charging connectors are narrowing somewhat. For AC charging, the SAE J1772 Type 1 connector is used in North America and Japan, the IEC 62196 type 2 (also called the Mennekes) connector is used in Europe, and a version of the GB/T connector is used in China. In North America and Europe, variations on the Combined Charging System (CCS) have been adopted for DC charging. CHAdeMO is the Japanese standard, and GB/T is used in China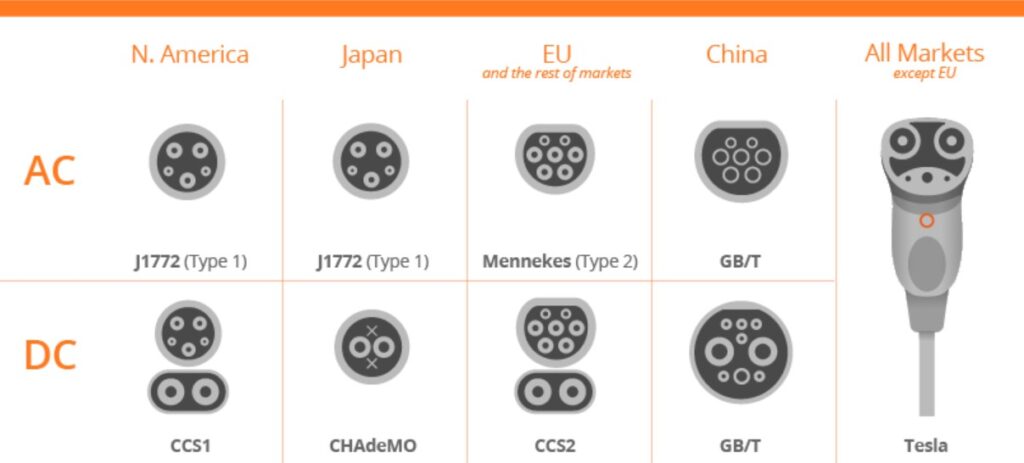 Figure 1: Examples of global EV charging connector standards. (Image: Enel X)